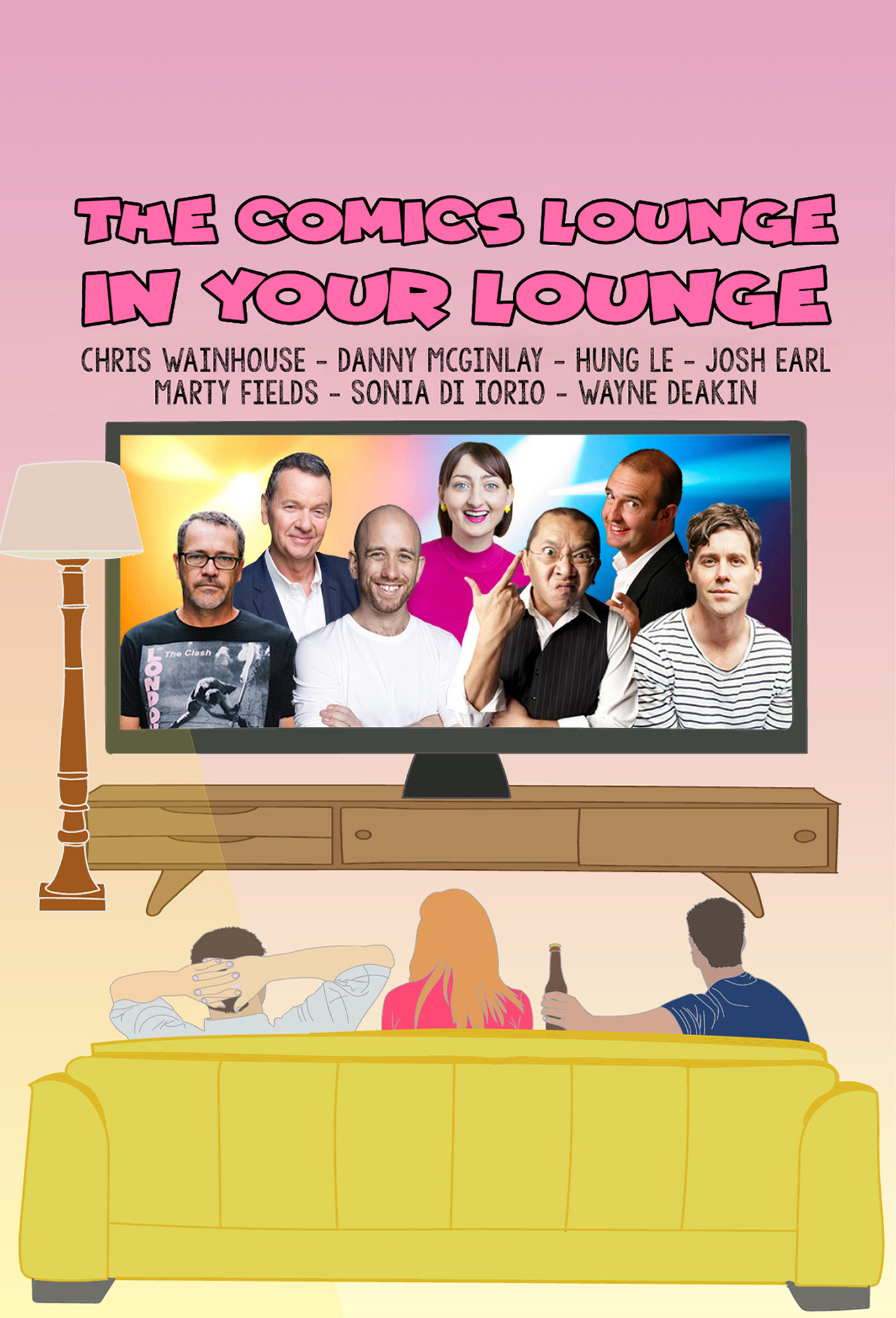 The Comics Lounge In Your Lounge (Summer Edition) Part 2
Now streaming
The Comics Lounge is closed for the holidays, but your Lounge is open for business. Enjoy 60 minutes of stand up from the best comedians in Melbourne and Australia.
The longest running and most popular comedy venue, the Comics Lounge Comedy Club has played host to many well-known comedy figures. This will be a show where you are guaranteed the best medicine – plenty of LAUGHTER!!!!
Available to stream until Sunday November 7, 2021.
Please note: This stream will be available to watch until Sunday November 7 2021, 11:59 PM AEDT
This event is no longer available
CLOSE
Tikstream Terms of Use for Customers
This document outlines the terms and conditions of using the Tikstream service to attend and view ticketed live-streamed or pre-recorded events online. By using the website you agree to abide by the terms of use incorporating the privacy policy.
Host organisations refers to the organisation that is presenting their event or content via the Tikstream service. 
Customers refers to you, the users who purchases tickets to access the streamed content on Tikstream. 
Site refers to the Tikstream website and service.
Tikstream content
Tikstream is a service available to people 13 years old and over. If you are not old enough to access this service or the content presented by a host organisation on Tikstream, you should not use the site. Tikstream will not be held responsible for inappropriate content being presented by host organisations. Tikstream does not control the content provided or presented by host organisations.
Customer feedback
Tikstream connects you to the host organisation's event that you wish to attend online. If you are not satisfied with the content presented by your host organisation, you should contact that organisation. Tikstream will endeavour to support host organisations to troubleshoot customer issues, but cannot guarantee immediate rectification of issues. 
The customer experience of Tikstream is intended to be smooth and seamless and your feedback is important. If you have feedback on the service itself, please contact us on [email protected].>
Please note, that if you do not have an appropriate internet connection or device type, your experience may not be as good as it could be. You will need a sufficient internet connection, otherwise your service may be slow or intermittent.
In the event that the service fails due to poor connection, Tikstream will not be held responsible. The material on Tikstream is provided as-is and without warranty of any kind, either express or implied. Tikstream does not warrant that the function performed on the site will be uninterrupted or error free, that defects will be corrected or that this site, including its servers and software, are free of viruses or harmful components.
Attending an event
The host organisation is responsible for recording all audio and video content for presentation via the live or pre-recorded stream and agrees to ensure that the presentation of the streamed content occurs at the ticketed event time and date, or not more than 30 minutes after the starting time. In the event of unforeseen delays to live streaming service, the host organisation should notify you of the expected delay.
Customer refunds
All refunds will be managed by the host organisation, not Tikstream.
Customer data
It is expected that your customer data, including personally identifiable information and transaction data will be passed onto the host organisation for their future use in marketing to you (subject to relevant laws). Please refer to the privacy policy also. You may request to unsubscribe, access your date or have it deleted at any time.
Transaction fee
Tikstream collects a transaction fee from host organisations based on the volume of tickets sold to live or pre-recorded streamed events. This transaction fee will be stipulated in the service agreement between Tikstream and the host organisation. You should be aware that the transaction fee may be up to 10% of your nominated contribution.
Third parties
Tikstream may provide links to other services and does not provide any warranty or guarantee for these third party services. Tikstream does not warrant or guarantee the correctness, accuracy, timeliness, reliability or otherwise of the material on this site or third parties. Tikstream will regularly improve the service and undertake maintenance but provides no assurance of resolution of defects. Please also refer to the relevant terms of use for the third party payment gateway employed in your Tikstream service, such as https://stripe.com/au/ssa and https://www.tessituranetwork.com/en/About/Terms-of-Use#terms-of-service.
Intellectual property and law
The website and its contents and features (including information, software, images, content, video, audio, designs and code) are owned by Studio Bravo Pty Ltd trading as Tikstream. This is protected by copyright and intellectual property laws. Your use of this service is governed by the relevant local and federal laws. You are expected to comply with these laws.
Change of terms
Tikstream reserves the right to change these terms at any time. All changes are effective at the time of posting them on this page. In continuing to use the service, you accept the terms at the time of use. It is your responsibility to check these terms periodically to stay up to date.
Contact us
If you have any questions or suggestions about the terms of use of Tikstream, please contact us at [email protected].
CLOSE
Privacy Policy
Last Updated: April 2020
Studio Bravo Pty Ltd trading as Tikstream ("we/us") operates http://www.tikstream.com (the "site"). Tikstream is a premium digital streaming service that you can access by purchasing tickets to live or pre-recorded events hosted by various third-party organisations. This policy outlines the data and information we collect and how we use it, as well as how you can access your own personal information.
We use your personal information only for providing and improving your site experience and managing your transactions on the site. By using the site, you agree to the collection and use of information in accordance with this policy.
Information collection and use
While using our site, we may ask you to provide us with certain personally identifiable information that can be used to contact or identify you. Personally identifiable information may include but is not limited to your name and email address. 
Payment data
We do not collect or store your credit card data. Payments are managed by the third party payment gateways that the website uses. These payment gateways are trusted and secure solutions that offer their own privacy policy and terms and conditions for use. You should review the privacy policies and terms on these sites, such as https://stripe.com/au/legal
Disclosure of your data
When you make a transaction using Tikstream, your personal information may be recorded and stored by us and also provided securely to the third party organisation hosting the event that you have bought a ticket to. Tikstream may pass your name, email address and transaction value to the third party. This third party will not contact you with marketing communication without your consent.
Your personal information will not be disclosed to any other third party organisation without your prior consent.
Log data
Like many site operators, we collect information that your browser sends whenever you visit our site ("log data").
This log data may include information such as your computer's Internet Protocol ("IP") address, device type, browser type, browser version, the pages of our site that you visit, the time and date of your visit, the time spent on those pages and other statistics.
In addition, we may use third party services such as Google Analytics that collect, monitor and analyse this data to understand user behaviour on the site and how the experience could be improved. This log data is not personally identifiable.
Communications
We may use your personal information to contact you with details of your ticket purchase and access codes, newsletters, marketing or promotional materials and other information that supports your experience with Tikstream. At any time you may choose to opt out of marketing communications, however your access to the site events will not be possible without receiving an email confirmation from Tikstream when you make a purchase.
Cookies
Cookies are files with a small amount of data which may include an anonymous unique identifier. Cookies are sent to your browser from a web site and stored on your computer's hard drive.
Like many sites, we use cookies to collect information and improve your site experience. You can instruct your browser to refuse all cookies or to indicate when a cookie is being sent. However, if you do not accept cookies, you may not be able to use some portions of our site or your experience may not be as easy to use as it could be.
Security
The security of your personal information is important to us. No method of transmission over the Internet, or method of electronic storage, is 100% secure. While we strive to use commercial best-practice security measures to protect your personal information, we cannot guarantee its absolute security.
Changes to this privacy policy
This Privacy Policy is effective as of April 2020 and will remain in effect except with respect to any changes in its provisions in the future, which will be in effect immediately after being posted on this page.
We reserve the right to update or change our privacy policy at any time and you should check this privacy policy periodically when using the site. Your continued use of the service after we post any modifications to the privacy policy on this page will constitute your acknowledgment of the modifications and your consent to abide and be bound by the modified privacy policy.
If we make any major changes to this privacy policy, we will notify you either through the email address you have provided us or by placing a prominent notice on our website.
Accessing your personal information
At any time you can reasonably request to access your personal information that we have stored. You may request to be removed from our database. 
If you have any questions about this privacy policy or wish to access your personal information, please contact us.